Fácil
Questão 36 3640122
EEAR 2019/2
Read the text to answer the question.

The cost of a cigarette

A businesswoman's desperate need for a cigarette on an 8-hour flight from American Airlines ________ in her being arrested and handcuffed, after she was found lighting up in the toilet of a Boeing 747, not once but twice. She ___________ because she _______ violent when the plane landed in England, where the police subsequently arrested and handcuffed her. Joan Norrish, aged 33, yesterday ________ the first person to be prosecuted under new laws for smoking on board a plane, when she was fined £440 at Uxbridge magistrates' court.
Adapted from Innovations , by Hugh Dellar and Darryl Hocking.
The words "violent" and "subsequently", underlined in the text, are:
Fácil
Questão 56 284849
UNIFOR Bacharelado 2016/2
Usando os adjetivos da caixa abaixo, complete o relatório do Departamento de Recursos Humanos sobre Maria Karlsson.
hard-working motivating creative punctual sociable reliable
Maria Karlsson
Maria is good in a team and she gets on well with her colleagues. She is extremely ______1 . She is never late for meeting. – she is always ______2 . She is very _____3 ; she always meets deadlines. She is in the office at 8.00 a.m. every day and usually stays late, so she is very _____4 . Her boss says this is very _____5 to others. Her colleagues have a lot of respect for her work and attitude.
She is also a very _____6 person with a lot of good ideas for the future of the company
Fácil
Questão 16 94682
Mackenzie 2014/2
BREAKING BAD
Breaking Bad is an American crime drama television series created and produced by Vince Gilligan. Set and produced in Albuquerque, New Mexico, Breaking Bad is the __ ( I )__ story of Walter White (Bryan Cranston), a struggling high school chemistry teacher who is diagnosed with __ ( II )__ lung cancer at the beginning of the series. He turns to a life of crime, producing and selling methamphetamine, in order to secure his family's financial future before he dies, teaming with his former student, Jesse Pinkman (Aaron Paul). The series has been labeled a contemporary western by its creator.
The series premiered on January 20, 2008 in the United States and Canada on the cable channel AMC, and the series finale aired on September 29, 2013. Breaking Bad received __ ( III )__ critical acclaim, and is widely regarded as one of the greatest television series of all time. By its end, the series was among the __ ( IV ) _ _ cable shows on American television, with audience numbers that doubled in the fifth season from the previous year's episodes.
Breaking Bad was created by Vince Gilligan, who spent several years writing the Fox series The X-Files. Gilligan wanted to create a series in which the protagonist became the antagonist. "Television is historically good at keeping its characters in a self-imposed stasis so that shows can go on for years or even decades," he said. "When I realized this, the __ ( V )__ next step was to think, how can I do a show in which the fundamental drive is toward change?" He added that his goal with Walter White was to turn him from Mr. Chips into Scarface.
While Gilligan defines the term "breaking bad" as "to raise hell", it apparently means more than that. According to Lily Rothman, it is an old phrase which "connotes more violence than 'raising hell' does.... The words possess a wide variety of nuances: to 'break bad' can mean to 'go __ ( VI )__ ', to 'defy authority' and break the law, to be verbally 'combative, belligerent, or _ _ ( VII )__ or, followed by the preposition 'on,' to 'completely dominate or humiliate.'"
The concept emerged as Gilligan talked with his fellow writer Thomas Schnauz regarding their _ _ ( VIII )__ unemployment and joked that the solution was for them to put a "meth lab in the back of an RV and drive around the country cooking meth and making money."
http://en.wikipedia.org/wiki/Breaking_Bad
The adjectives that properly fill in blanks I, II, III, IV, V, VI, VII and VIII, in the text, are
Médio
Questão 88 925817
PUC-RS Verão 2019
INSTRUÇÃO: Responder à questão com base no texto.
TEXT
Being a Better Online Reader
Soon after Maryanne Wolf published "Proust and the
Squid," a history of the science and the development
of the reading brain from antiquity to the twenty-first
century, she began to receive letters from readers.
[5] Hundreds of them. While the backgrounds of the
writers varied, a theme began to emerge: the more
reading moved online, the less students seemed to
understand.
There were the architects who wrote to her about
[10] students who relied so heavily on ready digital
information that they were unprepared to address
basic problems on-site. There were the neurosurgeons
who worried about the "cut-and-paste chart mentality"
that their students exhibited, missing crucial details
[15] because they failed to delve deeply enough into any
one case. And there were, of course, the English
teachers who lamented that no one wanted to read
Henry James anymore.
As the letters continued to pour in, Wolf experienced a
[20] growing realization: reading had changed profoundly.
She called the rude awakening her "Rip van Winkle
moment," and decided that it was important enough
to warrant another book. What was going on with
these students and professionals? Was the digital
[25] format to blame for their superficial approaches, or
was something else at work?
Certainly, as we turn to online reading, the physiology
of the reading process itself shifts; we don't read the
same way online as we do on paper. Reading involves
[30] factors not usually acknowledged. The contrast of
pixels, the layout of the words, the concept of scrolling
versus turning a page, the physicality of a book versus
the ephemerality of a screen, the ability to hyperlink
and move from source to source within seconds online
[35] – all these variables translate into a different reading
experience.
The screen, for one, seems to encourage more
skimming behavior: when we scroll, we tend to read
faster but less deeply, as a way of coping with an
[40] overload of information. On screen, people browse
and scan to look for keywords, and to read in a less
linear, more selective fashion, instead of concentrating
more on just following the text. We become tired from
the constant need to filter out hyperlinks and possible
[45] distractions. And our eyes may grow fatigued from
the constantly shifting screens, layouts, colors, and
contrasts, so the reading approach needs to adjust,
taking mental and physical energy. __________.
"As children move more toward an immersion in digital
[50] media, we have to figure out ways to read deeply in
this new environment", said Wolf. She has decided
that, despite all her training in deep reading, she, too,
needs some outside help. To finish her book, she has
ensconced herself in a small village in France with
[55] shaky mobile reception and shakier Internet. Faced
with the endless distraction of the digital world, she
has chosen to tune out just a bit of it. She's not going
backward; she's merely adapting.
Adapted from: https://www.newyorker.com/science/maria-konnikova/being-a-better-online-reader
In "to look for keywords, and to read in a less linear, more selective fashion, instead of concentrating more on just following the text." (lines 41-43) and "She has decided that, despite all her training in deep reading, she, too, needs some outside help." (lines 51-53), the connectors instead of and despite can be replaced, without any change in form and meaning, respectively, by
Médio
Questão 38 289175
UPE 2° Fase 1° Dia 2018
Texto 3
Observe both language and context to put the right word in the right place.
BERRY FRUIT SAVED FROM WASTE BY FREEZING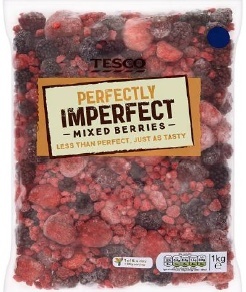 We're passionate about good fresh fruit and we're committed to make ________that no good food goes to waste. We reviewed our operations in producing frozen fruit products and found that there was some fruit that was getting wasted in the process.
Mixed fruit
We get a lot of broken fruit pieces on the __________ line, especially with raspberries. There are also wonky, small, misshapen and slightly __________ fruit.
The mixed berries are perfect for using in smoothies, for baking or as breakfast toppers.
No time for waste
Launching this product is part of our ongoing work to tackle food waste __________it occurs – from farm to fork. Tesco believes that no food that could be eaten should be wasted. That"s why we"ve committed that no food that is __________for human consumption will go to waste from Tesco UK Retail operations by the end of 2017.
Disponível em: http://www.internationalsupermarketnews.com/news/28320. Adaptado.
The CORRECT sequence is
Médio
Questão 61 172718
UFRGS FIS - LIT - ING - ESP 2016
[1] Identity is about belonging, about what
you have in common with some people and
what differentiates you from the others. At its
most basic it gives you a sense of personal
[5] location, the stable core to your individuality.
But it is also about your social relationships,
your complex involvement with others, and in
the modern world these have become even
more complex and confusing. Each of us lives
[10] with a variety of potentially contradictory
identities, which battle within us ........
allegiance: as men or women, black and
white, straight or gay, able-bodied or
disabled. The list if potentially infinite, and so
[15] therefore are our possible belongings. Which
of them we focus on, bring to the fore,
"identify" with, depends on a host of factors.
At the center, however, are the values we
share with others.
[20] Identities are not neutral. ........ the quest
for identity are different, and often conflicting
values. By saying who we are, we are also
striving to express what we are, what we
believe and what we desire.(…)
[25] All this makes debates over values
particularly fraught and delicate: they are not
simply speculations ........ the world and our
place in it; they touch on fundamental, and
deeply felt issues about who we are and what
[30] we want to become. They also pose political
questions: how to achieve reconciliation
between our collective needs as human
beings and our specific needs as individuals
and members of diverse communities, how to
[35] balance the universal and the particular.
These are not new questions, but they are
likely, nevertheless, to loom ever-larger as we
engage with the certainty of uncertainty that
characterizes 'new times'.
[40] The basic issue can be stated ........
simply: by what criteria can we choose
between the conflicting claims of differences?
To ask the question immediately underlines
the poverty of our thinking about this. Can
[45] the rights of a group obliterate the rights of
an individual? Should the morality of one
sector be allowed to limit the freedom of
others? To what extent should one particular
definition of the good and the just prevail
[50] over others? These are ancient questions, but
the alarming fact is that one still lacks a
common language for addressing them, let
alone resolving them.
WEEKS, J. The Value of Difference. In: RUTHEFORD, J. ed. Identity, Culture, Difference. London: Lawrence & Wishart, 1990. p. 88.
Considere as propostas de reescrita do segmento The list is [...] infinite, and so therefore are our belongings (l. 14-15).
I - The list is [...] infinite and consequently our belongings are also infinite.
II - The list is [...] infinite and the list of our belongings may also be infinite.
III- The list is [...] infinite and hence our belongings are infinite, too.
Quais poderiam substituir o segmento acima, sem prejuízo do sentido literal e da correção gramatical?