Fácil
Questão 23 215676
UNESP 2018/1
No trecho do terceiro quadrinho "We're not that dumb!", o termo em destaque pode ser substituído, sem alteração de sentido, por
Médio
Questão 34 280312
EPCAR 2017
Directions: Read the text below and answer question according to it.
Most Common Prejudices
What are some of the most common ways
people discriminate against each other? Some of the
areas where people show their intolerance are wellknown,
such as race. But others are less
[5] acknowledged1, even if more common:
Age: Ageism is more common than you think. Older
people are thought to be inflexible and stuck2 in the
past, while younger people are seen as inexperienced
and naive. One-fifth of working adults say they
[10] experience ageism in the workplace.
Class: Classism usually takes the form of
discrimination by wealthier people against those who
are less well off. However, classism goes both ways—
people of lower economic status can see the wealthy
[15] as elite snobs who, while monetarily secure, are
morally bankrupt3.
Color: Different from racism, colorism is discrimination
based only on the color of a person's skin; how
relatively dark or light they are. Colorism takes place
[20] within and between races. It is common in multi-ethnic
and non-white societies and societies with historical
racial prejudice.
Ability: Usually called ableism, a less well-known form
of prejudice is discrimination against people with visible
[25] disabilities such as those in wheelchairs or with a
learning disability. The disabled face discrimination not
only from their peers4, but from institutions, schools,
employers, and landowners5 who are hesitant to
accommodate the disabled.
[30] Sex/Gender: Possibly the most universal and long
running prejudice is that based on a person's gender or
sex. Historically, sexism has placed men in a more
advantageous position than women.
Weight/Size: In short, sizeism is discrimination based
[35] on a person's body size or weight. Sizeism works with
social standards of beauty and usually takes the form
of discrimination against the overweight — anti-fat
prejudice.
Religion: Religious discrimination and persecution has
[40] been common throughout history. But prejudice based
on religious affiliation doesn't end with organized
religion; atheists are prone6 to discrimination and being
discriminated against.
Sexual Orientation: Most commonly, prejudice based
[45] on sexual orientation includes discrimination against
those of a non-heterosexual orientation. Discrimination
against the non-heterosexual takes many forms
depending on the society. In some societies prejudice
is open and tolerated, but in most Western societies,
[50] bias7 against the non-heterosexual is more discreet.
Country of Origin: Nativism is a common form of
discrimination against immigrants to a country. Unlike
many other forms of discrimination, nativism is many
times encouraged and enforced by some public
[55] entities.
Which prejudice do you have? Which prejudice have
you experienced?
Adapted from https://aloftyexistence.wordpress.com
Glossary:
1 - acknowledged – reconhecidos (as)
2 - stuck – presos (as)
3 - bankrupt – falidos (as)
4 - peers - pares; colegas
5 - landowners – proprietários (as)
6 - prone – propensos (as)
7 - bias – julgamento ou opinião parcial
The word "others" (line 4) refers to
Médio
Questão 18 94549
Mackenzie 2013/2
"__( I )__ you know who you are, and what you want, __( II )__ you let things upset you." -Bob Harris, "Lost in Translation"
The best way to complete the blanks I and II in the text is
Médio
Questão 73 157819
FMJ 2009
Difícil
Questão 26 240991
UESB Caderno 1 2011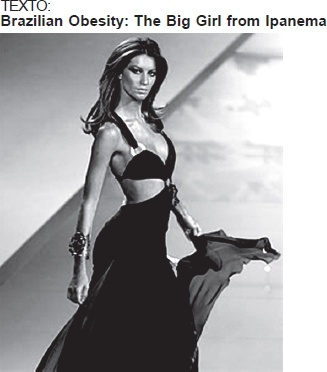 According to a government study released this
week, the number of Brazilians suffering from obesity is
growing. And the trend toward the fuller figure is most
prevalent among women. "Obesity among women had
[5] stabilized in previous studies, and now there is an
expressive increase," says Deborah Malta, the study's
coordinator. "That is very worrying."
The study covered many health-related topics and
offered some contradictory figures as well. Although
[10] Brazilians are getting fatter, they are eating less red meat
and more fruits and vegetables, Malta reports. They are
smoking less and taking more preventive tests such as
mammograms and pap smears. But they are using less
sunscreen and drinking more, especially to excess and
[15] often when driving.
Nevertheless, in body-conscious Brazil, the nation
of Gisele Bündchen, plastic surgery and minuscule
bikinis, it was the obesity figures that caused the most
anxiety. When the New York Times reported in 2005
[20] that Brazilians were getting fatter, the correspondent
came under attack in the media as a gay, Brazilian-hating
heretic.
According to Malta, Brazilians are relatively slim
compared with their counterparts in the West. "I think
[25] Brazilians are still worried about their bodies. When we
compare ourselves to the rest of the world, we are still
much thinner," she tells TIME. "And remember, this is
not just Brazilians that are getting fatter — this is a
worldwide phenomenon."
[30] Independent experts, however, caution against such
nationalistic one-upmanship. Already one-quarter of
hospital beds are taken up by people suffering from
weight-related ailments such as heart attacks, back
surgeries and hip and joint replacements, says Luiz
[35] Vicente Berti, president of the Brazilian Society of
Metabolic and Bariatric Surgery. Unless preventive action
is taken to educate people, he warns, Brazil faces a
sick and expensive future. "If we don't teach people how
to eat properly and exercise, then in 10 years no one
[40] will have the money to pay the hospital bills that
will arise," Berti says, adding that the number of
stomach-reduction surgeries carried out in Brazil had
risen 500%. "The U.S. can't solve its problem, and it is
the biggest economy in the world."
DOWNIE, Andrew . Brazilian obesity : the big girl from Ipanema. São Paulo Friday, Apr. 10, 2009. Disponível em: <http://www.time.com/time/ world/article/>. Acesso em: 3 nov. 2010.
The only pair of opposites is in alternative