Fácil
Questão 26 396826
EEAR 2018/2
Read the text and answer question.

[1] It's never too late to make changes to prevent diseases
that may end your flying career. And becoming healthier
doesn't mean you have to make major changes. Here are
some tips on what you can do today to keep yourself in the
[5] air for years to come.
- take the stairs instead of riding the elevator;
- limit red meat;
- consume more vegetables;
- wear UV-blocking sunglasses;
[10] - walk more;
- try a yoga class;
- don't smoke;
- drink a lot of water;
- find an activity that you love after retirement.
Fonte:http://goo.gl/W3uCrU Acess 30/05/2017
The word "yourself", in bold in the text, is a __________ pronoun.
Fácil
Questão 5 5522102
UFMS PASSE - 3ª Etapa 2018-2020
Leia o texto para responder às questão
Could adopting a new name improve your fortune? Some Chinese communities think so
One afternoon in April, Mandy Pang's worst fears came true. She was summoned onto a Zoom with her boss on short notice. Due to the economic downturn from the pandemic, she was being made redundant at her marketing job.
Angry and hurt, the 29-year-old Hong Konger went back home and began brooding over memories from her previous jobs, and the "bad luck" that seemed to be holding her hostage. A month later, still looking for work, Pang decided she knew what she had to do: change her legal name in a bid to shake off her bad luck and improve her future prospects.
She says, "My mother's friend told me that the new name can help me fend off 'petty people'" – those who have a negative influence over her life.
In traditional Chinese culture, the meaning behind names has always carried huge importance. Chinese communities across East Asia believe a name can affect one's luck in every aspect of their lives, from health and romance to finances and academic performance. As the pandemic continues to hit the economy hard, people like Pang who find themselves out of work are not only polishing their CVs, but also heading to fortune tellers for advice on whether a new name might change their futures.
"Chinese people believe that there are 10 things that decide their destiny," says Lee Shingchak, one of Hong Kong's most well-known feng shui practitioners. "Other than one's timing of birth or doing good deeds, one's name is believed to be one of the factors in the equation."
In the sentence: "As the pandemic continues to hit the economy hard, people like Pang who find themselves out of work are not only polishing their CVs, but also heading to fortune tellers for advice on whether a new name might change their futures.", the word "themselves" is:
Fácil
Questão 1 3357181
UFMS PASSE - 3ª Etapa 2017-2019
Read the comic to answer question.
In the sentence "You look a little overinflated yourself", the word "yourself" is:
Médio
Questão 49 6307416
UNITINS 2020
Leia o trecho da notícia "Amazon fires: what is happening and is there anything we can do?" publicada no jornal The Guardian e responda às questões.
What is happening in the Amazon? Thousands of fires are burning in Brazil, many of them in the world's biggest rainforest, which is sending clouds of smoke across the region and pumping alarming quantities of carbon into the world's atmosphere.
Does this happen every year? Yes, but some areas have suffered far more than usual. In the worst-affected Brazilian state of Amazonas, the peak day this month was 700% higher than the average for the same date over the past 15 years. In other states, the amount of ash and other particulates in August has hit the highest level since 2010.
What is the cause? Most of the fires are agricultural, either smallholders burning stubble after harvest, or farmers clearing forest for cropland. Illegal land-grabbers also destroy trees so they can raise the value of the property they seize. But they are manmade and mostly deliberate. Unlike the huge recent blazes in Siberia and Alaska, the Amazon fires are very unlikely to have been caused by lightning.
Fonte: https://www.theguardian.com/environment/2019/aug/23/ amazon-fires-what-is-happening-anything-we-can-do. Acesso em: 24 set. de 2019.​​​​​​​
Os superlativos, em Inglês denominados Superlatives, são utilizados para expressar a qualidade de um adjetivo no seu mais alto grau, isto é, eles manifestam a superioridade ou inferioridade de algo em seu nível máximo.
Nessa perspectiva, assinale a alternativa que contém alguns dos superlativos presentes no texto.
Médio
Questão 5 1259083
FGV-SP Economia - 1ºFase - LEI/FIS/QUI/LPO - BLOCO 02 2019
Read the text in order to answer question.
How to fix inequality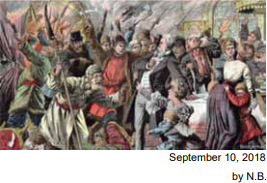 Introduction
In an age of widening inequality, the Stanford professor Walter Scheidel believes he has cracked the code on how to overcome it in his book "The Great Leveler". The Economist's Open Future initiative asked Mr Scheidel to reply to a number of questions.
1. The Economist: Is society incapable of tackling income inequality peacefully?
Walter Scheidel: No, but history shows that there are limits. There is a big difference between maintaining existing arrangements that successfully check inequality — Scandinavia is a good example — and significantly reducing it. The latter requires real change and that is always much harder to do: think of America or Britain, not to mention Brazil, China or India. The modern welfare state does a reasonably good job of compensating for inequality before taxes and transfers. However, for more substantial levelling to occur, the established order needs to be shaken up: the greater the shock to the system, the easier it becomes to reduce privilege at the top.
2. The Economist: Are we really living in an implacable period of wealth inequality — or was the relatively equal society that followed the Second World War the real aberration?
Walter Scheidel: When we view history over the long run, we can see that this experience was certainly a novelty. We now know that modernisation as such does not reliably reduce inequality. Many things had to come together to make this happen, such as very high income and estate taxes, strong labour unions, and intrusive regulations and controls. Since the 1980s, liberalisation and globalisation have allowed inequality to rise again. Even so, wealth concentration in Europe is nowhere near as high as it was a century ago. Like Europe, America, meanwhile, is getting there — which shows that it all depends on where you look.
3. The Economist: How do artificial intelligence and automation fit in to your thinking? Will they be a calamity for employment and thus for equality? Or might they unleash extraordinary productivity and improvements in living standards that actually narrow inequality?
Walter Scheidel: Ideally, we would like education to keep up with technological change to make sure workers have the skills they need to face this challenge. But in practice, there will always be losers, and even basic-income schemes can take us only so far. At the end of the day, someone owns the robots. As long as the capitalist world system is in place, it is hard to see how even huge productivity gains from greater automation would benefit society evenly instead of funnelling even more income and wealth to those who are in the best position to pocket these gains.
(The Economist. http://bit.do/eysic. Adaptado)
In the excerpt from Walter Scheidel's first answer "The latter requires real change", the expression in bold refers to
Médio
Questão 32 301089
UDESC Manhã 2018/2
TEXT 1
The Invitation
It doesn't interest me what you do for a living, I want to know what you ache for, and if you dare to dream of meeting your heart's longing.
It doesn't interest me how old you are. I want to know if you will risk looking like a fool for love, for your dreams, for the adventure of being alive.
It doesn't interest me what planets are squaring with your moon. I want to know if you have touched the center of your own sorrow, if you have been opened by life's betrayals or have become shriveled and closed from fear of further pain. I want to know if you can sit with pain, mine or your own, without moving to hide it, or fade it or fix it. I want to know if you can be with joy, mine or even your own; if you can dance with the wilderness and let the ecstasy fill you to the tips of your fingers and toes without cautioning us to be careful, be realistic, or to remember the limitations of being a human.
It doesn´t interest me if the story you´re telling me is true. I want to know if you can risk disappointing another to be true to yourself; if you can bear the accusation of betrayal and not betray your own soul. I want to know if you can be faithless and therefore be trustworthy. I want to know if you can see beauty even when it´s not pretty every day, and if you can source your life from its presence. I want to know if you can live with failure, yours and mine, and still stand on the edge of a lake and shout to the silver of the moon, "YES".
It doesn´t interest me to know where you live or how much money you have. I want to know if you can get up after a night of grief and despair, weary and bruised to the bone, and do what needs to be done for the children. It doesn´t matter to me who you are, how you came to be here. I want to know if you will stand in the center of the fire with me and not shrink back.
It doesn´t interest me where or what or with whom you have studied. I want to know what sustains you from the inside when all else falls away. I want to know if you can be alone with yourself; and if you truly like the company you keep in the empty moments.
(By Oriah Mountain Dreamer from the book THE INVITATION (c) 1999. Published by HarperONE, San Francisco. All rights reserved. Presented with permission of the author. www.oriah.org) (theunboundedspirit.com/start-living) Accessed on March 27th, 2018.
According to the meaning of the text, the underlined words are consecutively: