Fácil
Questão 46 4008213
FMJ 2021
Leia o texto para responder à questão.
What Does It Mean to Tear Down a Statue?
Protesters throwing the statue of the slave trader Edward Colston into a harbour.
Statues of historical figures, including slave traders and Christopher Columbus, are being toppled throughout the U.S. and around the world. This follows years of debate about public display of Confederate symbols. We interviewed the art historian Erin L. Thompson about the topic. Read the excerpt from the interview.
Q. What are some of the issues that arise when we talk about statues being torn down?
A. We have as humans been making monuments to glorify people and ideas since we started making art, and since we started making statues, other people have torn them down. So it's not surprising that we are seeing people rebelling against ideas that are represented by these statues today.
Q. What do the recent attacks on statues tell us about the protests themselves?
A. The current attacks on statues are a sign that what's in question is not just our future but our past, as a nation, as a society. These attacks show that we need to question the way we understand the world, even the past, in order to get to a better future.
Q. What's a statue?
A. I think a statue is a bid for immortality. It's a way of solidifying an idea and making it present to other people. It's not the statues themselves but the point of view that they represent. And these [the ones being destroyed] are statues in public places, right? So these are statues claiming that this version of history is the public version of history.
Also, many Confederate statues are made out of bronze, a metal that you can melt down. The ancient Greeks made their major monuments out of bronze. Hardly any of these survived because as soon as regimes changed, as soon as there was war, it got melted down and made into money or a statue of somebody else.
We have been in a period of peace and prosperity — not peace for everybody, but the U.S. hasn't been invaded, we've had enough money to maintain statues. So our generation thinks of public art as something that will always be around. But this is a very ahistorical point of view. I wish that what is happening now with statues being torn down didn't have to happen this way. But there have been peaceful protests against many of these statues which have come to nothing. So if people lose hope in the possibility of a peaceful resolution, they're going to find other means.
(www.nytimes.com, 11.06.2020. Adaptado.)
No trecho do penúltimo parágrafo "because […] it got melted down and made into money", a palavra sublinhada indica uma
Fácil
Questão 14 5710149
UNIEVA Demais Cursos 2018/1
Leia o texto a seguir para responder à questão.
In place of submitting a traditional application for admission, prospective students may choose to apply for admission under the Test Score Application System. Under this system, the University accepts as applications the official score reports from either the American College Test (ACT) or the Scholastic Aptitude Test (SAT). High School juniors and seniors who take the ACT or the SAT should indicate this university as a score recipient of their ACT or SAT registration form. Upon receipt of the ACT Student Profile report or the SAT report, the Admissions Office will notify students of their eligibility for admission. Under this system, itis unnecessary to submit a high school transcript until after graduation unless the student wishes to apply for a scholarship.
STANLEY, Nancy. The best TOEFL test Book. Massachusetts:
Considerando-se os aspectos estruturais e semânticos do texto, verifica-se que
Médio
Questão 11 1259111
FGV-SP Economia - 1ºFase - LEI/FIS/QUI/LPO - BLOCO 02 2019
Read the text in order to answer question.
How to fix inequality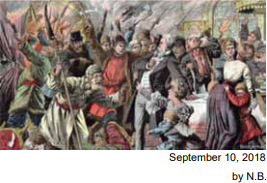 Introduction
In an age of widening inequality, the Stanford professor Walter Scheidel believes he has cracked the code on how to overcome it in his book "The Great Leveler". The Economist's Open Future initiative asked Mr Scheidel to reply to a number of questions.
1. The Economist: Is society incapable of tackling income inequality peacefully?
Walter Scheidel: No, but history shows that there are limits. There is a big difference between maintaining existing arrangements that successfully check inequality — Scandinavia is a good example — and significantly reducing it. The latter requires real change and that is always much harder to do: think of America or Britain, not to mention Brazil, China or India. The modern welfare state does a reasonably good job of compensating for inequality before taxes and transfers. However, for more substantial levelling to occur, the established order needs to be shaken up: the greater the shock to the system, the easier it becomes to reduce privilege at the top.
2. The Economist: Are we really living in an implacable period of wealth inequality — or was the relatively equal society that followed the Second World War the real aberration?
Walter Scheidel: When we view history over the long run, we can see that this experience was certainly a novelty. We now know that modernisation as such does not reliably reduce inequality. Many things had to come together to make this happen, such as very high income and estate taxes, strong labour unions, and intrusive regulations and controls. Since the 1980s, liberalisation and globalisation have allowed inequality to rise again. Even so, wealth concentration in Europe is nowhere near as high as it was a century ago. Like Europe, America, meanwhile, is getting there — which shows that it all depends on where you look.
3. The Economist: How do artificial intelligence and automation fit in to your thinking? Will they be a calamity for employment and thus for equality? Or might they unleash extraordinary productivity and improvements in living standards that actually narrow inequality?
Walter Scheidel: Ideally, we would like education to keep up with technological change to make sure workers have the skills they need to face this challenge. But in practice, there will always be losers, and even basic-income schemes can take us only so far. At the end of the day, someone owns the robots. As long as the capitalist world system is in place, it is hard to see how even huge productivity gains from greater automation would benefit society evenly instead of funnelling even more income and wealth to those who are in the best position to pocket these gains.
(The Economist. http://bit.do/eysic. Adaptado)
In the excerpt from the third question made by The Economist "Will they be a calamity for employment and thus for equality?", the word in bold denotes
Médio
Questão 21 745308
UEFS Caderno 1 2017/2
Read the text to answer question.
Early dinosaur relative walked like a croc
One of the earliest relatives of dinosaurs had some features we associate today with crocodiles and alligators, a study suggests.
Many palaeontologists have wondered what the earliest dinosaur relatives looked like, as the fossil record in this time period is sparse. Some assumed they walked on two legs, looking a bit like miniature dinosaurs. But the newly described creature walked on four legs like a croc, the journal Nature reports.
The 2-3m (7-10ft) carnivorous animal, unearthed in southern Tanzania, lived some 245 million years ago during the Triassic Period. It pre-dated the earliest dinosaurs. Prof Paul Barrett, one of the authors on the new paper, said: "This is a little animal that we call Teleocrater. It's not very big...it probably would have weighed about the same as the average family dog."
Teleocrater rhadinus appeared just after a large group of animals known as archosaurs split into one branch that led to dinosaurs, and another branch that led to today's alligators and crocodiles. Its anatomy combines features present in the last common ancestor of these groups, such as a crocodilian-like ankle joint, with some features considered characteristic of dinosaurs.
The first fossils belonging to Teleocrater were discovered in 1933 in Tanzania. They were studied at London's Natural History Museum in the 1950s. But these specimens were missing crucial bones, such as the ankle. Therefore, scientists at the time could not tell whether they were more closely related to crocs or to dinosaurs.
The new specimens were uncovered in the East African country in 2015, resolving some of those outstanding questions. They show that it is one of the earliest members of the archosaur family tree and that it walked like a crocodilian.
Teleocrater, along with other dinosaur relatives, lived across a wide range of different regions, from Russia to India to Brazil. The team's next steps are to return to southern Tanzania to look for more remains and missing pieces of the Teleocrater skeleton.
(Paul Rincon. www.bbc.com, 12.04.2017. Adaptado.)
In the excerpt from the fifth paragraph "But these specimens were missing crucial bones, such as the ankle. Therefore, scientists at the time could not tell", the term in bold expresses the idea of
Médio
Questão 44 94897
ESPM 2014/2
Global warming
Who pressed the pause button?
The slowdown in rising temperatures over the past 15 years goes from being unexplained to overexplained
BETWEEN 1998 and 2013, the Earth's surface temperature rose at a rate of 0.04°C a decade, far slower than the 0.18°C increase in the 1990s. Meanwhile, emissions of carbon dioxide (which would be expected to push temperatures up) rose uninterruptedly. This pause in warming has raised doubts in the public mind about climate change. A few sceptics say flatly that global warming has stopped. Others argue that scientists' understanding of the climate is so flawed that their judgments about it cannot be accepted with any confidence. A convincing explanation of the pause therefore matters both to a properunderstanding of the climate and to the credibility of climate science—and papers published over the past few weeks do their best to provide one. Indeed, they do almost too good a job. If all were correct, the pause would now be explained twice over
This is the opposite of what happened at first. As evidence piled up that temperatures were not rising much, some scientists dismissed it as a blip. The temperature, they pointed out, had fallen for much longer periods twice in the past century or so, in 1880-1910 and again in 1945-75 (see chart), even though the general trend was up. Variability is part of the climate system and a 15-year hiatus, they suggested, was not worth getting excited about.
An alternative way of looking at the pause's significance was to say that there had been a slowdown but not a big one. Most records, including one of the best known (kept by Britain's Meteorological Office), do not include measurements from the Arctic, which has been warming faster than anywhere else in the world. Using satellite data to fill in the missing Arctic numbers, Kevin Cowtan of the University of York, in Britain, and Robert Way of the University of Ottawa, in Canada, put the overall rate of global warming at 0.12°C a decade between 1998 and 2012—not far from the 1990s rate. A study by NASA puts the "Arctic effect" over the same period somewhat lower, at 0.07°C a decade, but that is still not negligible.
It is also worth remembering that average warming is not the only measure of climate change. According to a study just published by Sonia Seneviratne of the Institute for Atmospheric and Climate Science, in Zurich, the number of hot days, the number of extremely hot days and the length of warm periods all increased during the pause (1998-2012). A more stable average temperature hides wider extremes. Still, attempts to explain away that stable average have not been convincing, partly because of the conflict between flat temperatures and rising CO2 emissions, and partly because observed temperatures are now falling outside the range climate models predict. The models embody the state of climate knowledge. If they are wrong, the knowledge is probably faulty, too. Hence attempts to explain the pause.
Mar 8th 2014 | www.economist.com
The word "hence" in the underlined sentence from the last paragraph of the text: "Hence attempts to explain the pause." conveys an idea of
Médio
Questão 8 190826
ITA 2010
Leia o seguinte período extraído do texto:
Vegetarian restaurants have lower overheads since they don't need freezers, says Marisa Ledesma, one of the owners of Bio Restaurante, a smart eatery. (parágrafo 2).
Assinale a opção que pode substituir o termo since sem que o sentido da oração seja comprometido.