Escolha a disciplina, dificuldade em Filtrar Questões
[1] New Dehli's Paharganj rail station is
humming with sound and crawling with
people. The gray platforms are bathed in
white light. The train engines belch smoke
[5] and whistle like impatient bulls.
If you were to search for me in the
crowded maze, where would you look? You
would probably try to find me among the
dozens of street children who are stretched
[10] out on the smooth concrete floor in various
stages of rest and slumber. You might even
imagine me as an adolescent vendor,
peddling plastic bottles containing tap water
from the station's toilet as pure Himalayan
[15] mineral water. You could visualize me as one
of the sweepers in dirty shirts and torn pants
shuffling ........ the platform, with a long
swishing broom transferring dirt from the
pavement ........ the track. Or you could look
[20] for me among the regiments of red-
uniformed porters bustling about with heavy
loads on their heads.
Well, think again, because I am neither a
vendor, nor porter, nor sweeper. Today I am
[25] a genuine passenger, travelling to Mumbai, in
the sleeper class no less, and with a proper
reservation. I am wearing a starched white
bush shirt made 100% cotton and Levi's
jeans-yes, Levi's jeans, bought from the
[30] Tibetan Market. I am walking purposefully
........ platform number five to board the
Paschim Express for Mumbai. There is a
porter trudging along by my side carrying a
light-brown suitcase on his head. The porter
[35] has been hired by me, and the suitcase on his
head belongs to me. The suitcase does not
contain any money. I have heard too many
stories about robbers on trains that drug you
at night and make off with your belongings to
[40] take the chance of keeping the most precious
cargo of my life-my salary from the Taylors-in
my suitcase. It is inside my underwear. I take
a quick look ........ the loose notes in my front
pocket. I reckon I will have just enough to
[45] take an auto-rickshaw from Bandra Terminus
to Salim's room in the Ghatkopar slum. Won't
Salim be surprised to see me arrive in a
three-wheeler instead of on the local train?
And when he sees the game I bought for
[50] him, I hope he doesn't faint from happiness.
Adapted from: SWARUP, Vikas. Slumdog Millionaire. 2005. p. 148-149.
The modal verbs might (l. 11) and could (l. 15) are being used to express
Médio
Questão 12 1259115
FGV-SP Economia - Tarde 2019
Read the text in order to answer question.
How to fix inequality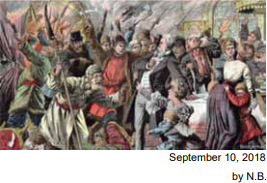 Introduction
In an age of widening inequality, the Stanford professor Walter Scheidel believes he has cracked the code on how to overcome it in his book "The Great Leveler". The Economist's Open Future initiative asked Mr Scheidel to reply to a number of questions.
1. The Economist: Is society incapable of tackling income inequality peacefully?
Walter Scheidel: No, but history shows that there are limits. There is a big difference between maintaining existing arrangements that successfully check inequality — Scandinavia is a good example — and significantly reducing it. The latter requires real change and that is always much harder to do: think of America or Britain, not to mention Brazil, China or India. The modern welfare state does a reasonably good job of compensating for inequality before taxes and transfers. However, for more substantial levelling to occur, the established order needs to be shaken up: the greater the shock to the system, the easier it becomes to reduce privilege at the top.
2. The Economist: Are we really living in an implacable period of wealth inequality — or was the relatively equal society that followed the Second World War the real aberration?
Walter Scheidel: When we view history over the long run, we can see that this experience was certainly a novelty. We now know that modernisation as such does not reliably reduce inequality. Many things had to come together to make this happen, such as very high income and estate taxes, strong labour unions, and intrusive regulations and controls. Since the 1980s, liberalisation and globalisation have allowed inequality to rise again. Even so, wealth concentration in Europe is nowhere near as high as it was a century ago. Like Europe, America, meanwhile, is getting there — which shows that it all depends on where you look.
3. The Economist: How do artificial intelligence and automation fit in to your thinking? Will they be a calamity for employment and thus for equality? Or might they unleash extraordinary productivity and improvements in living standards that actually narrow inequality?
Walter Scheidel: Ideally, we would like education to keep up with technological change to make sure workers have the skills they need to face this challenge. But in practice, there will always be losers, and even basic-income schemes can take us only so far. At the end of the day, someone owns the robots. As long as the capitalist world system is in place, it is hard to see how even huge productivity gains from greater automation would benefit society evenly instead of funnelling even more income and wealth to those who are in the best position to pocket these gains.
(The Economist. http://bit.do/eysic. Adaptado)
In the excerpt from the third question made by The Economist "Or might they unleash extraordinary productivity and improvements in living standards that actually narrow inequality?", the word in bold can be correctly replaced, without meaning change, by
TEXTO:
While virtually all activity, from yoga to sleeping,
requires energy, studies suggest vigorous exercise is
especially effective at burning calories. Seems obvious,
right? But it's not just during exercise, it's for hours after
[5] it's concluded. And that's where things get interesting.
The so-called "afterburn effect" is more officially
known as excess post-exercise oxygen consumption or
simply, EPOC. And it isn't new in the world of
fitness. Several studies suggest there's a strong
[10] correlation between the number of calories burned post
exercise and the activity's intensity. Simply put: The
more intense the exercise, the more oxygen your body
consumes afterward.
In one study conducted with participants who
[15] had metabolic syndrome, EPOC also had significant
positive effects—meaning this type of training could be
especially useful in combating certain health issues,
like obesity and diabetes.
And while one study showed that your afterburn
[20] will increase significantly with duration (i.e. the longer
and more intense your workout, the more you'll burn),
you don't necessarily have to work out for a long time
to stimulate the effect.That's where short, high-intensity
workouts come into play. For example, training protocols
[25] like Tabata, where 20 seconds of all-out effort is followed
by 10 seconds of rest, are one way to trigger the
afterburn; other high-intensity interval workouts
(or HIIT routines) can also get you there. The key with
any of these programs is that you need to be working
[30] hard.
And you don't need to stick to traditional cardio in
order to achieve an EPOC effect. Several studies have
shown that weight training with various types of
equipment can also elicit elevated EPOC—and may
[35] even be more effective than cardio training in certain
scenarios. But keep in mind: You shouldn't engage in
this style of training more than about two to three times
per week on non-consecutive days.
TAO, David. Disponível em: https://greatist.com/fitness/afterburneffect-keep-burning-calories-after-workout. Acesso: 1 nov. 2018. Adaptado.
Considering language use in the text, it's correct to say:
Médio
Questão 43 1675602
Unit-SE Demais cursos 1º Dia 2019/1
TEXTO:

When Sudan, the last northern white rhino bull, died
in March 2018, that left alive only two females of
the subspecies once common in Central and East
Africa.Both are descendants of Sudan and live in Kenya,
[5] and were considered infertile. But now, new hope is
emerging that extinction of the species can still be
prevented. Researchers have successfully created living
embryos in the laboratory from frozen sperm of the
northern white rhinoceros and egg cells from the southern
[10] white rhinoceros. It's the most closely related
subspecies, with more than 20,000 southern rhinos living
in the wild.
Although such hybrid embryos are not pure northern
white rhinoceros, the researchers are optimistic. They
[15] plan to take egg cells from the still living northern
rhinoceros females in autumn of this year, and to fertilize
them with stored sperm from the same species.They
then intend to implant the oocytes into fertile southern
rhinoceros females in early 2019. This method is also
[20] used in human reproductive medicine.
Even if healthy rhinoceros calves can be
produced, whether the northern white rhino can be saved
in the long term remains unclear. As the sperm comes
from a few rhinoceros bulls, limited genetic diversity could
[25] endanger the health of a newly bred northern white rhino
population. Due to the smaller gene pool, such inbreeding
typically leads to higher rates of recessive disorders,
translating into higher death rates and poorer overall
health.
[30] Still, the research unit is hoping that stem cell
technology can create more eggs and sperm from the
skin cells of 12 northern whites, increasing the supply
and genetic variety. If the scientists pull it off, they'll
both rescue a seemingly doomed animal and provide a
[35] blueprint for protecting other animals teetering on the
edge of oblivion.
WHEN SUDAN...Disponível em: https://www.dw.com/en/researcherscreate-hybrid-northern-white-rhino-embryos/a-44527410. Acesso em: 1 nov. 2018. Adaptado.
As far as the stem cell technology is concerned, the research unity __________ .
The only alternative that does not complete this blank correctly is
Leia o texto para responder à questão.
Tiny viruses live in your body: what to know about viromes and what scientists are doing to protect you
Wildlife biologists have enlisted the help of mice and other creatures as they try to better understand how viruses infect humans and how to protect them. "Most of the emerging infectious diseases that arise come from wildlife reservoir hosts," researcher Kurt Vandegrift said in a statement from Pennsylvania State University. The university added, "One key to fighting emerging diseases is finding out before they get into humans which pathogens we're most likely to encounter — the ones that are carried by the wild creatures we're most likely to touch, share space with, or be bitten by." In the U.S., that includes mice and deer ticks, for example.
While studying wildlife, the scientists may find viruses that could one day evolve to infect humans. Discovering them ahead of time gives experts a leg up on observing how the viruses work, creating vaccines or taking other measures. Studying animals has another benefit: learning more about their viromes — the collections of viruses in and on them — could lead to more information about the human virome.
Human beings are full of viruses, Penn State says. "Some of your viruses are just visiting and will be gone in a week. Most are permanent tenants. A few may even find their way into your DNA." That's not necessarily a bad thing, as the university notes that we owe our placenta and thus our reproductive process to virus genes and evolution. We can also be invaded by a virus but never see an infection, or become barely sick at all while others are debilitated.
"We are rarely, if ever, infected by just one germ at a time," according to Penn State, "and since pathogens change your immune system, how sick you get from a new pathogen doesn't depend only on the ones you're infected with now; it's a reflection of all the infectious diseases you've ever had, and even in what order you had them." The ongoing research would not be the first time animals have taught scientists a thing or two about viruses. Smallpox is now eradicated but was once a highly contagious and often deadly virus in humans.
(Elana Glowatz. www.medicaldaily.com, 10.02.2017. Adaptado.)
No trecho do segundo parágrafo "viruses that could one day evolve to infect humans", o termo em destaque pode ser substituído, sem alteração de sentido, por
Question: Is there anything I can do to train my body to need less sleep?
Many people think they can teach themselves to need less sleep, but they're wrong, said Dr. Sigrid Veasey, a professor at the Center for Sleep and Circadian Neurobiology at the University of Pennsylvania's Perelman School of Medicine. We might feel that we're getting by fine on less sleep, but we're deluding ourselves, Dr. Veasey said, largely because lack of sleep skews our self-awareness. "The more you deprive yourself of sleep over long periods of time, the less accurate you are of judging your own sleep perception," she said.
Multiple studies have shown that people don't functionally adapt to less sleep than their bodies need. There is a range of normal sleep times, with most healthy adults naturally needing seven to nine hours of sleep per night, according to the National Sleep Foundation. Those over 65 need about seven to eight hours, on average, while teenagers need eight to 10 hours, and school-age children nine to 11 hours. People's performance continues to be poor while they are sleep deprived, Dr. Veasey said.
Health issues like pain, sleep apnea or autoimmune disease can increase people's need for sleep, said Andrea Meredith, a neuroscientist at the University of Maryland School of Medicine. A misalignment of the clock that governs our sleep-wake cycle can also drive up the need for sleep, Dr. Meredith said. The brain's clock can get misaligned by being stimulated at the wrong time of day, she said, such as from caffeine in the afternoon or evening, digital screen use too close to bedtime, or even exercise at a time of day when the body wants to be winding down.
(http://well.blogs.nytimes.com. Adaptado.)
No trecho do primeiro parágrafo "We might feel that we're getting by fine on less sleep", o termo em destaque pode ser substituído, sem alteração de sentido, por