Fácil
Questão 11 6431554
UEA - SIS 1° Etapa 2022
Leia o texto para responder a questão.
According to the Union of Concerned Scientists, there are nearly 2,800 working satellites in space. We depend on these devices for technology we use every day, such as video calls, online maps, satellite TV, and weather tracking. Scientists use them to study space and learn more about our planet.
But there are many other satellites in orbit that are no longer working. They're among the objects cluttering up space. Some of these eventually fall back toward Earth, either landing or burning up in the atmosphere. But much of this space junk circles Earth for decades.
Orbital debris, a type of space junk, is any human-made object that has stopped working but continues to float around the Earth. This includes abandoned satellites and pieces of spacecraft, such as rocket stages.
Space junk also includes fragments of objects. These occur when satellites collide with things. They also result from an object crashing into an old rocket stage that still contains fuel, causing an explosion.
Heather Cowardin works at NASA. She says the United States is tracking more than 23,000 pieces of space debris. These tiny fragments can damage working satellites, which can affect research in space. That's why cleanup efforts are so important.
(Karena Phan. www.timeforkids.com, 16.10.2020. Adaptado.)
No trecho do terceiro parágrafo "This includes abandoned satellites and pieces of spacecraft, such as rocket stages", a expressão sublinhada introduz
Fácil
Questão 8 4359032
UNESP Cursos da área de biológicas 2021
Examine o meme publicado pela comunidade "The Language Nerds" em sua conta no Instagram em 28.02.2020.
Para se evitar o qualificativo de "psicopata", seria aconselhável seguir a recomendação do meme e inserir uma vírgula logo após
Fácil
Questão 13 4429078
UNICAMP 1° Dia 2021
Ao reformular a sua pergunta, o Papai Noel
Fácil
Questão 47 4038724
FMJ 2019
Leia o texto para responder à questão.
Does a lipstick threaten the future of one of our closest living relatives?

Pizza, biscuits, and beauty treatments are some of the thousands of products that contain palm oil, which threaten iconic species through deforestation. And a new study says that planting alternative oils could pose an even bigger danger to living things.
Palm oil is the most widely used vegetable oil on the planet and is believed to be in about 50% of products found in supermarkets and shops. It is important for lipstick for example because it holds colour well, has no taste and doesn't melt at high temperatures. It's found in shampoos, soaps, ice cream and instant noodles amongst thousands of others.
Over the past 20 years, growing demand has seen thousands of hectares of old, tropical forests chopped down to make way for the oily palm tree plantations. But these forests are home to some of the most threatened species in the world, including the orangutan. "Orangutans are a lowland species on Bornean Sumatra and that's where palm oil is grown. The two often clash, palm oil displaces orangutans, they are pushed into gardens where they generate conflicts with locals and that's where you get the killings. They are incredibly versatile, but what an orangutan can't deal with is killing. Because they are such slow breeding species, the killing has a really big impact", the report's lead author Erik Meijaard, told BBC News.
Palm makes up 35% of the world's vegetable oil supply but only takes up 10% of the world's land allocated to producing the greasy stuff. To replace it with rapeseed, soy or sunflower seed oil would take far larger amounts of land, in fact up to nine times the amount needed for palm. It's likely that such a move would see a displacement of diversity loss, with many more species in different places under threat. "If palm oil didn't exist you would still have the same global demand for vegetable oil," said Erik Meijaard.
(Matt McGrath. www.bbc.com, 26.06.2018. Adaptado.)
O trecho do quarto parágrafo "To replace it with rapeseed, soy or sunflower seed oil would take far larger amounts of land" indica que outras culturas
Fácil
Questão 16 4060898
UNIVAG 2019/1
Leia o texto para responder à questão.
Airborne particles cause more than 3m early deaths a year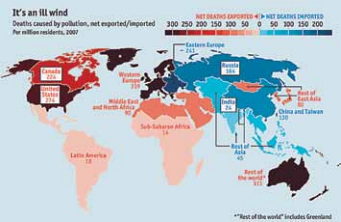 Governments are worried over traffic and other local nuisances that create filthy air. But research just published in Nature by Zhang Qiang, of Tsinghua University in Beijing, and an international team including environmental economists, physicists and disease experts, suggests the problem has a global dimension, too. Dr Zhang's analysis estimates that in 2007 — the first year for which complete industrial, epidemiological and trade data were available when the team started work — more than 3m premature deaths around the world were caused by emissions of fine particulate matter (known as PM2.5, because the particles in question are less than 2.5 microns across).
Of these, the team reckon just under an eighth were associated with pollutants released in a part of the world different from that in which the death occurred, thanks to transport of such particles from place to place by the wind. Almost twice as many (22% of the total) were a consequence of goods and services that were produced in one region (often poor) and then exported for consumption in another (often rich, and with more meticulous environmental standards for its own manufacturers).
In effect, such rich countries are exporting air pollution, and its associated deaths, as they import goods. As far as China is concerned, that phenomenon is probably abating. Chinese coal consumption has been on the wane since 2013, so premature deaths there from toxic air are now probably dropping. But other industrialising countries, such as India, may yet see an increase.
(www.economist.com, 01.04.2017. Adaptado.)
No trecho do terceiro parágrafo "so premature deaths there from toxic air are now probably dropping", o termo sublinhado equivale, em português, a
Fácil
Questão 18 6853978
FEMA Medicina 2019/1
Leia o texto para responder à questão.
Is alkaline water really better for you?
Despite the claims, there's no evidence that water marketed as alkaline is better for your health than tap water. "It's all about marketing," said Tanis Fenton, a registered dietitian and epidemiologist at Cumming School of Medicine at the University of Calgary. "There is no science to back it up."
The pH scale indicates whether a liquid is more acidic (lower pH) or alkaline (higher pH). Pure water has a neutral pH of 7, while tap water has some natural variation depending on its mineral content. Most bottled waters are slightly acidic, and sodas and juices are even more so. Bottled waters marketed as being alkaline typically claim to have a pH between 8 and 10. Some are from springs or artesian wells and are naturally alkaline because of dissolved minerals. Others are made with an ionizing process, and water ionizing machines are also marketed for home use.
Alkaline water companies make vague claims that it will "energize" and "detoxify" the body and lead to "superior hydration." And some claim that ionized water can prevent everything from headaches to cancer. Nevertheless, there's no evidence that drinking water with a higher pH can change the pH of your body, or even that this outcome would provide benefits. Blood is tightly regulated at around pH 7.4, while the stomach, which secretes hydrochloric acid to digest proteins and kill food-borne pathogens, is very acidic, with a pH of 1.5 to 3.5. If you drink water that is slightly alkaline, Dr. Fenton said, the hydrochloric acid in the stomach quickly neutralizes it before it's absorbed into the blood.
Several small studies funded by companies that sell alkaline water suggest that it could improve hydration in athletes, but any potential benefits were modest, and an easier way to improve hydration is just to drink more water. And a 2016 review of research by Dr. Fenton and a colleague found no evidence that alkaline water or an alkaline diet could treat or prevent cancer.
A study published last year found that adopting a plantbased diet and drinking alkaline water worked as well as medications to alleviate the symptoms of laryngopharyngeal reflux, a severe form of acid reflux in which stomach acid travels all the way up to the throat. "I think that it can be a helpful tool for patients to help with their symptoms while they're transitioning to a more plant-based diet," said Dr. Craig Zalvan, the study's lead author and a laryngologist at Phelps Hospital in Sleepy Hollow, N.Y. But he believes that most of the improvement in his patients comes from dietary changes rather than alkaline water. Once symptoms improve, he says there's no need to keep drinking alkaline water.
(Alice Callahan. www.nytimes.com, 27.04.2018. Adaptado.)
O trecho do quinto parágrafo "a severe form of acid reflux in which stomach acid travels all the way up to the throat", configura, em relação à expressão "laryngopharyngeal reflux", uma