Médio
Questão 22 124452
UPF Inverno 2011
Let's Move! is a comprehensive initiative, launched by the First Lady, dedicated to solving the problem of childhood obesity in a generation so that kids born today will grow up healthier and able to pursue their dreams. This is an ambitious goal. But it can be done. Combining comprehensive strategies with common sense, Let's Move! is about putting children on the path to a healthy future starting with their earliest months and years and continuing throughout their lives. Giving parents helpful information and fostering environments that support healthy choices. Providing healthier foods in our schools. Ensuring that every community has access to healthy, affordable food. And, helping kids become more physically active. [...]
"In the end, as First Lady, this isn't just a policy issue for me. This is a passion. This is my mission. I am determined to work with folks across this country to change the way a generation of kids thinks about food and physical activity." — First Lady Michelle Obama
Retirado de http://www.letsmove.gov/resources em 10/04/2011
De acordo com Michelle Obama, "Let's Move" é para ela:
Difícil
Questão 35 90605
UEFS Caderno 1 2010/2
TEXTO:
Record blow for teenage sailor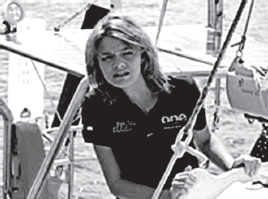 A 16-year-old Australian girl is nearly home after
sailing around the world. But she may not have sailed
far enough to get the record as the youngest person to
make the journey.
5 After more than six months at sea Jessica Watson
is in the final stretch of her epic voyage around the globe.
She's hoping to reach Sydney Harbor later this month a
couple of days shy of her seventeenth birthday.
But although there's no question that she's
10 circumnavigated the globe, sailing experts say she hasn't
gone far enough to claim the record of being the youngest
person to sail solo non-stop and unassisted around the
world.
The influential Sail World website has praised her heroic
15 achievement but is a stickler for the rules of what it calls
"true circumnavigation". To have achieved that, it says,
the teenager should have sailed much farther north into
the Atlantic to a point in line with France, rather than
simply crossing the Equator and then returning south.
20 "We don't want to take away from what the kid's
done," said the editor of the website "but it's one thing to
be a hero and another to be a record holder. Had she
sailed three thousand seven hundred kilometers further
she could have made that boast."
BRYANT, Nick. Record blow for teenage sailor. Disponível em: . Acesso em: 5 jun.
The only sentence from the text in which a form of comparison has not been used is in