Fácil
Questão 49 399527
URCA 2° Dia 2018/2
Germany prepares adaptation of the TV Series "Merlí"

"Merlí", the new TV3 series produced by Nova Veranda, based on an original idea and script by Héctor Lozano, directed by Eduard Cortés and starring Francesc Orella, will soon arrive Germany. A deal selling rights to the "Merlí" format will allow German audiovisual group Beta to adapt the adventures of this peculiar philosophy teacher and his favorite pupils, the Peripatetics.
The series "Merlí" finished shooting its third and last season last week, and its plot revolves around philosophy professor Merlí Bergeron (Francesc Orella). Like a modern-day Aristotle, Merlí chooses a group of High School students whom he teaches to reflect upon and question all aspects of life. This atypical, multifaceted professor confounds everyone around him as he encourages his students to set goals and objectives, sometimes using questionable methods.
The series continues to reap huge international success and is now preparing its arrival in Germany hand-in-hand with Beta thanks to an agreement with its international distributor Lagardère Studios Distribution, a strategic partner for Nova Veranda's parent company Boomerang TV. This is not the first time the series has crossed borders. It has already aired through Netflix in the Spanish-speaking U.S. and in Latin America as well as on Canal Plus France's Cinema+ Famillie network.
In this most recent agreement, the Beta Group has acquired the rights to adapt "Merlí" for the German market. In Spain, Movistar+ acquired broadcast rights for the series, which airs on the platform. The series is available nationwide for all of the platform's subscribers and can be seen in its original (Catalonian) version with Castillian subtitles. "Merlí" has also been acquired by ETB for the Basque Country, where it will be dubbed into Euskera.

From: https://goo.gl/UcYXP9. Accessed on 04/25/2018
A série Merlí tem quantas temporadas?
Médio
Questão 18 306458
FCM PB 2017/2
TEXTO II
"Firefighters shouting slogans during a public servants' demonstration against austerity measures in Rio de Janeiro in December." (CreditYasuyoshi Chiba/Agence France- Presse — Getty Images)
Brazil's Leaders Tout Austerity
Brazil's sickly economy is hemorrhaging thousands of jobs a day, States are scrambling to pay police officers and teachers, and money for subsidized meals is in such short supply that one legislator suggested that the poor could "eat every other day." Still, not everyone is suffering. Civil servants in the judicial branch are enjoying a 41 percent raise. Legislators here in São Paulo, Brazil's largest city, voted to increase their own salaries by more than 26 percent. And Congress, which is preparing to cut pension benefits around the country, is now allowing its members to retire with lifelong pensions after just two years in office.
Brazil is struggling to pull out of its worst economic crisis in decades, and President Michel Temer says the country needs to curb public spending to do so. Yet, it did not help his dismal approval ratings when he hosted a lavish taxpayerfunded banquet to persuade members of Congress to support his budget cuts, with 300 guests eating shrimp and filet mignon. Outside such rarefied circles, Mr. Temer's austerity measures are igniting a fierce debate over how the richest and most powerful Brazilians are protecting their wealth and privileges at a time when much of the country is enduring a harrowing economic decline.
economic decline.
"This government talks about austerity for everyone, but of course forces the costs on society's most vulnerable people," said Giovana Santos Pereira, 25, a schoolteacher. "It's ridiculous to the point of being tragic." Much of the ire revolves around the centerpiece of Mr. Temer's austerity drive: his success in persuading the scandal-ridden Congress to impose a cap on federal spending for the next 20 years.
Mr. Temer, who rose to power last year after supporting the impeachment of his predecessor, Dilma Rousseff, says the cap, which would limit the growth in spending to the rate of inflation, is needed to scale back ballooning budget deficits. Investors have applauded the measure as a turning point for Latin America's largest economy. But critics are lashing out at the spending cap, saying it could harm the poor for decades to come, especially in areas like education. Philip Alston, the United Nations special rapporteur on extreme poverty and human rights, said the spending cap placed Brazil "in a socially retrogressive category all of its own."
The debate is all the more caustic because Mr. Temer's government is resisting calls to raise taxes on wealthy Brazilians, who still enjoy what some economists describe as one of the most generous tax systems for the rich among major economies. For instance, Brazilians remain exempt from paying any taxes at all on dividends from stock holdings, and they can easily use loopholes to significantly lower taxes on other sources of income.
Economists at the government's Institute of Applied
Economic Research said in a 2016 study that a 15 percent tax on dividends could generate nearly $17 billion in revenue a year, but such proposals have failed to gain traction in a government that has shifted to the right. "The system is engineered to perpetuate inequality, and Temer is doubling down on bets that Brazil needs Greek-style austerity," said Pedro Paulo Zahluth Bastos, an economist at the Universidade de Campinas, drawing parallels between Brazil's multiyear slowdown and Greece's seemingly interminable economic crisis.
Mr. Temer has not been a popular president, and his approval ratings stand at just 10 percent. But his supporters point out that his leftist predecessor, Ms. Rousseff, sought her own austerity measures before her ouster last year, and that his government has promised to maintain some widely popular antipoverty programs expanded by her party years ago.
Mr. Temer's government says it is reversing the freespending ways of previous governments. Brazil's economy shrank about 4 percent in 2016, when its political class was consumed by infighting over the impeachment. But last month, the finance minister, Henrique Meirelles claimed, "the recession has ended."
Some promising signs of a recovery may be emerging. Foreign investment has increased and, after performing poorly, Brazil's stock market was one of the best performing in the world in 2016, creating a windfall for the relatively prosperous Brazilians who put money into equities. Mr. Temer is especially bullish, predicting that the economy will grow 3 percent next year. But, the conditions on the streets of cities around Brazil tell a different story, reflecting devilishly complex structural challenges as millions of Brazilians fall into poverty.
Given this scenario, the Brazilian States are facing crippling strikes by public employees over unpaid or inadequate salaries. In the State of Espírito Santo, in Southeast Brazil, a police strike last month produced an anarchic week marked by looting and a surge in homicides.
(Adapted from: https://www.nytimes.com/2017/03/03/world/americas)
"[…] Mr. Temer has not been a popular president, and his approval ratings stand at just 10 percent. […]"
Assign the correct grammatical classes (underlined words) based on the order that they appear in the sentence above.
Médio
Questão 40 408288
EEAR 2017/1
Read the text and answer question.
[1] A pilot from Northwest Airlines flight was less than pleased
with the food which was to be served on the flight.
He decided to find some better food, so he left his aeroplane,
and then left the airport to find food even though he had
[5] a plane to fly. The passengers were left to wait 90 minutes
until the pilot came back and when the pilot came back
he was fired on the spot for "abandoning his plane".
(Adapted from www.flightglobal.com)
The ordinal form for the number ninety (line 05), in the text, is
Médio
Questão 27 6317443
EEAR 2014
Read the text and answer question.
The US space organization, NASA developed and built
the first space shuttle. The shuttle was the first rocket to
fly into space, come back to earth and fly again. The
first shuttle to fly in space was Columbia. It took off on
[5] the 12th April 1981. In January 1986 the shuttle
Challenger exploded at take-off. Everyone on the
shuttle died. This accident slowed down the shuttle
programme for the next six years. A new shuttle,
Endeavor, replaced Challenger in May 1992.
[10] On 25th April 1990, NASA used the shuttle Discovery
to put the Hubble Space Telescope into space at a
distance of 512 kilometres from the earth. Hubble
travels around the earth and sends back photos of the
stars and planets.
GLOSSARY
NASA — National Aeronautics and Space Administration
The numbers 12th and 25th, underlined in the text, are, respectively:
Médio
Questão 37 90607
UEFS Caderno 1 2010/2
TEXTO:
Record blow for teenage sailor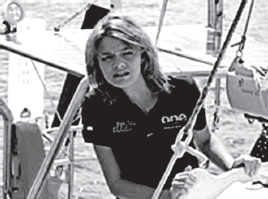 A 16-year-old Australian girl is nearly home after
sailing around the world. But she may not have sailed
far enough to get the record as the youngest person to
make the journey.
5 After more than six months at sea Jessica Watson
is in the final stretch of her epic voyage around the globe.
She's hoping to reach Sydney Harbor later this month a
couple of days shy of her seventeenth birthday.
But although there's no question that she's
10 circumnavigated the globe, sailing experts say she hasn't
gone far enough to claim the record of being the youngest
person to sail solo non-stop and unassisted around the
world.
The influential Sail World website has praised her heroic
15 achievement but is a stickler for the rules of what it calls
"true circumnavigation". To have achieved that, it says,
the teenager should have sailed much farther north into
the Atlantic to a point in line with France, rather than
simply crossing the Equator and then returning south.
20 "We don't want to take away from what the kid's
done," said the editor of the website "but it's one thing to
be a hero and another to be a record holder. Had she
sailed three thousand seven hundred kilometers further
she could have made that boast."
BRYANT, Nick. Record blow for teenage sailor. Disponível em: . Acesso em: 5 jun.
The correct sign for the number "three thousand seven hundred" (l. 23) is in